#TheBriefing
Photo credit: Janet Donovan
"When the President-Elect asked me if I'd like to serve as his Press Secretary, I had visions of West Wing in my head," Sean Spicer told friends during a sit down interview with Spicer's podcast co-host Katie Pavlich of Townhall.com for the launch of The Briefing: Politics, The Press, and The President at Pearl Street Warehouse at The Wharf in Washington, DC.
"I grew up, as I like to say, in a small town in Rhode Island with a pretty tight knit family," the author and former White House Press Secretary said. "It wasn't really political. I went to a Catholic high school and then went on to college. I started getting involved in campaigns towards the middle end of my years in college. My whole goal was to move to Washington, DC and get a job on Capitol Hill; [so] I came here and did everything you possibly could. I stuffed envelopes, drove people around in cars, volunteered for events and lived in a group house on The Hill with a lot of people."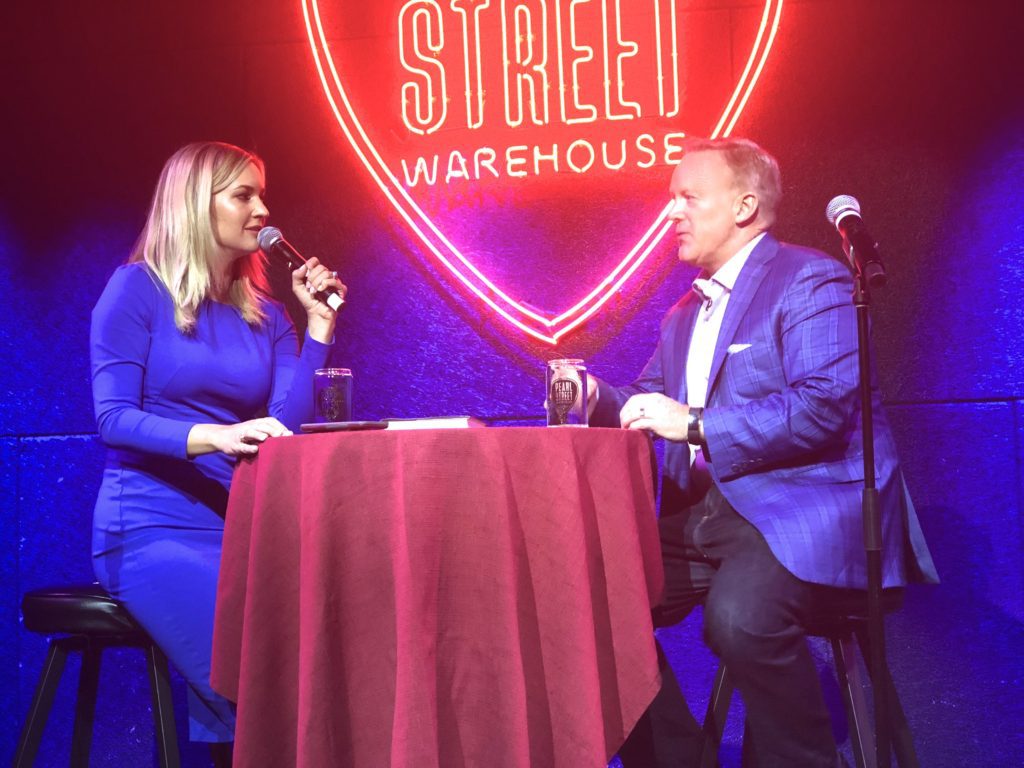 Katie Pavlich and Sean Spicer
"Look, I'll start off by saying this 'cause I know this is where everyone always wants to [go]: There was no one, [except] my mom and (wife) Rebecca, that thought I did a good job and I don't even think they thought that I did a good job," he said in reference to his first press briefing. "They just said, 'Good. Go for it.'  Everybody knew, myself included and the President, that wasn't putting my best foot forward and I said it before, if I could get a do-over, that'd be it. I was cast on that day."  Spicer was, we think, referring to his statement that took both critics and friends by surprise when he emphatically said of the inaugural parade: 'This was the largest audience to ever witness an inauguration — period — both in person and around the globe."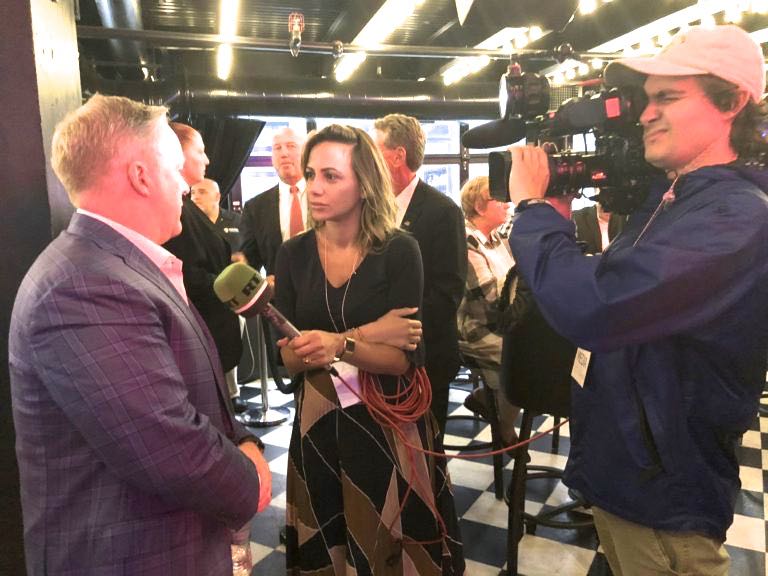 The interviews
"I expected to stay a little bit longer," Spicer said of his resignation, "but I found a sweet spot and I think it was the right time for both myself, family and the President. And it was a difficult decision. So many of us in this room have some kind of thing that we've always wanted to be, and I'm standing at that podium going, 'I don't even know you could dream this big in terms of the trajectory that most of the people in the RNC would have' and here I am walking to the Oval Office telling the President of the United States that I'm gonna resign. It [was a] very heavy decision that you're making knowing that there's no turning back."
Parting thoughts: "I think that we can be fierce partisans, but civil and respectful to each other. I find, as a conservative, that I learn more listening to liberals and understanding their ideas. But I also think it's just good for society where we have a discussion on policy or politics that doesn't turn into World War III every time. Every time I bring that up, I hear a bunch of finger pointing going, 'You guys started it.'  I mean it's like 8 year olds and I just think at some point we [need to] make a conscious decision as a society that we can have respect for [differing opinions] and not talk about surrounding these people and in many cases intimidating them."
#TheBriefing part 2:
Two nights later Spicer was hosted at The Trump Hotel by colleagues.  It was a visual night, as well known recognizable faces packed into a space in the lobby of the hotel where they posed for photos and did interviews.  The Surprise! OMG! moment of the night: The MyPillow.com guy showed up, first recognized by New York Post Washington correspondent Nikki Schwab, and caused quite a stir.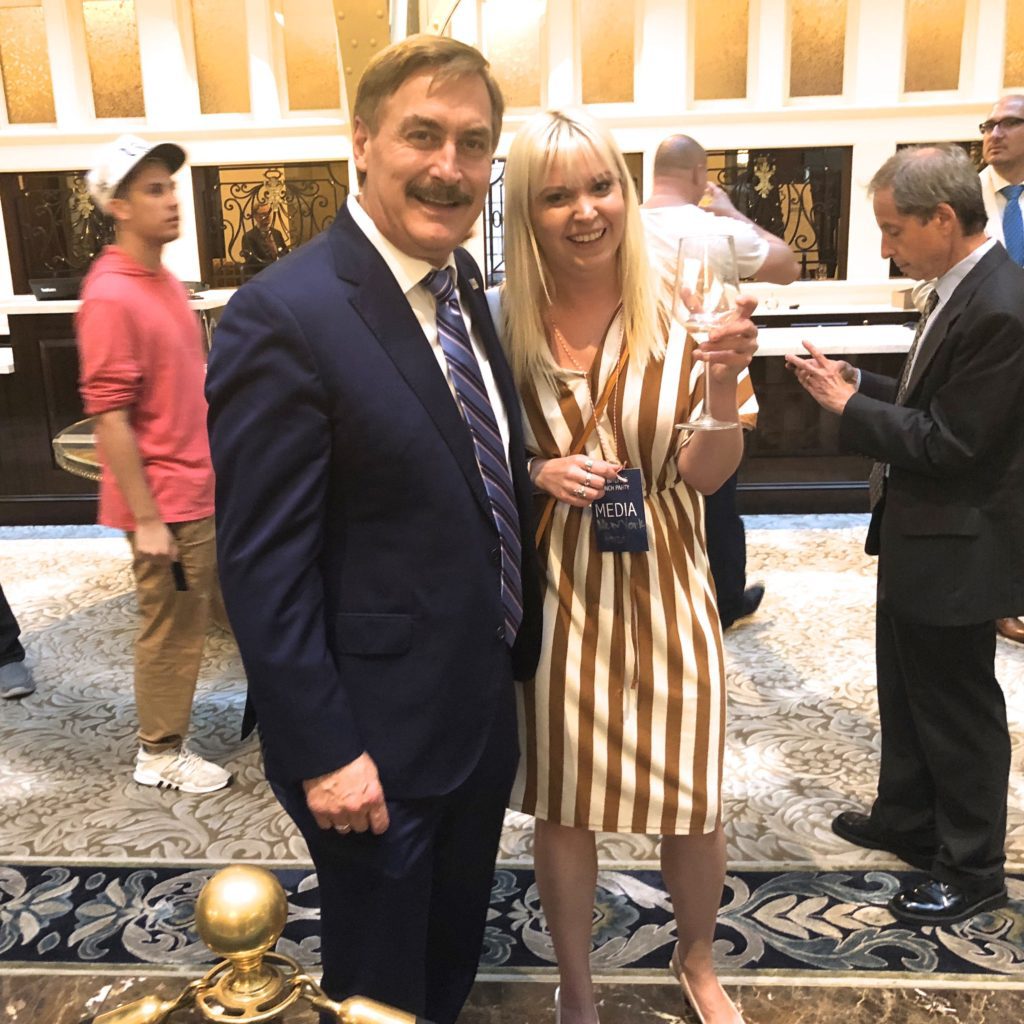 Michael J. Lindell and Nikki Schwab
Lots of reporters and administration types: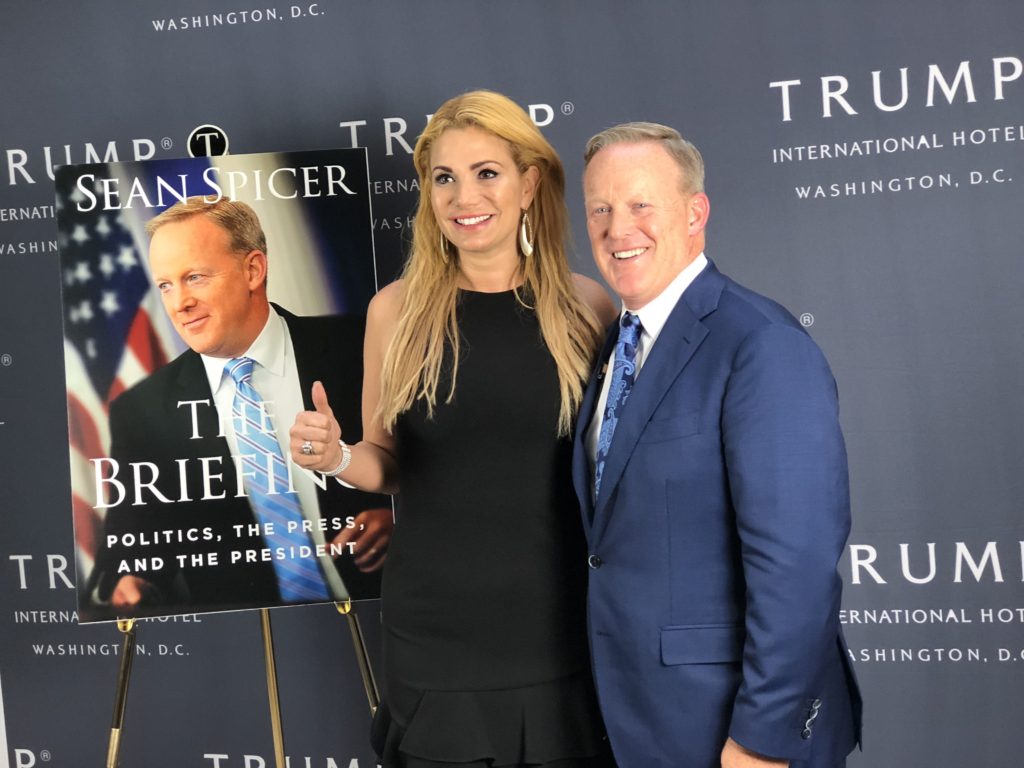 Paris Barns and Sean Spicer
"For more than two decades, Sean Spicer had been a respected political insider, working as a campaign and communications strategist. But in December 2016, he got the call of a lifetime. President-elect Donald J. Trump had chosen him to be the White House press secretary. And life hasn't been the same since. When he accepted the job, Spicer was far from a household name. But then he walked into the bright lights of the briefing room, and the cameras started rolling. His every word was scrutinized. Every movement was parodied. Every detail became a meme. And that's just the public side. Behind the scenes, things were almost as difficult in an administration plagued by leaks that frustrated and angered both Spicer and the President. Not to mention the extraordinary pressures on Spicer's family and his faith. Now, in his provocative and enlightening political memoir, The Briefing, Spicer reveals the truth behind some of the biggest news stories of our time, and he offers a glimpse into what it's like to stand at the press secretary's podium—and how he got there. No job is more of a pressure cooker than being a White House press secretary…especially in this White House."  Regnery Publishing