Acclaimed chef José Andrés was in Washington, DC to premiere the new documentary about himself and his organization, World Central Kitchen. Directed by Ron Howard, the film follows Andrés and his team as they travel the globe helping to feed people devastated by disasters. From earthquake and hurricane victims, to front line workers battling the pandemic, José has used food to bring people together and spread good around the world.
The chef is a DC legend, with multiple restaurants scattered around downtown, but in recent years he has turned his efforts beyond just the hospitality industry to humanitarian efforts. Andrés has served millions of meals to people in need, ranging from sandwiches to giant batches of his signature paella (which his team was cooking up outside the museum where the event was held.)
The chef said that for him, the film is a "call to action" to try and inspire others to help their fellow man and get involved in whatever way they can when others are in need. Nathan Mook, who is CEO of World Central Kitchen said he feels optimism even when facing areas that have been ravaged by disaster because "I get to be around some of the most strongest and driven, amazing people on the front lines. As long as they're still there, we're going to be okay."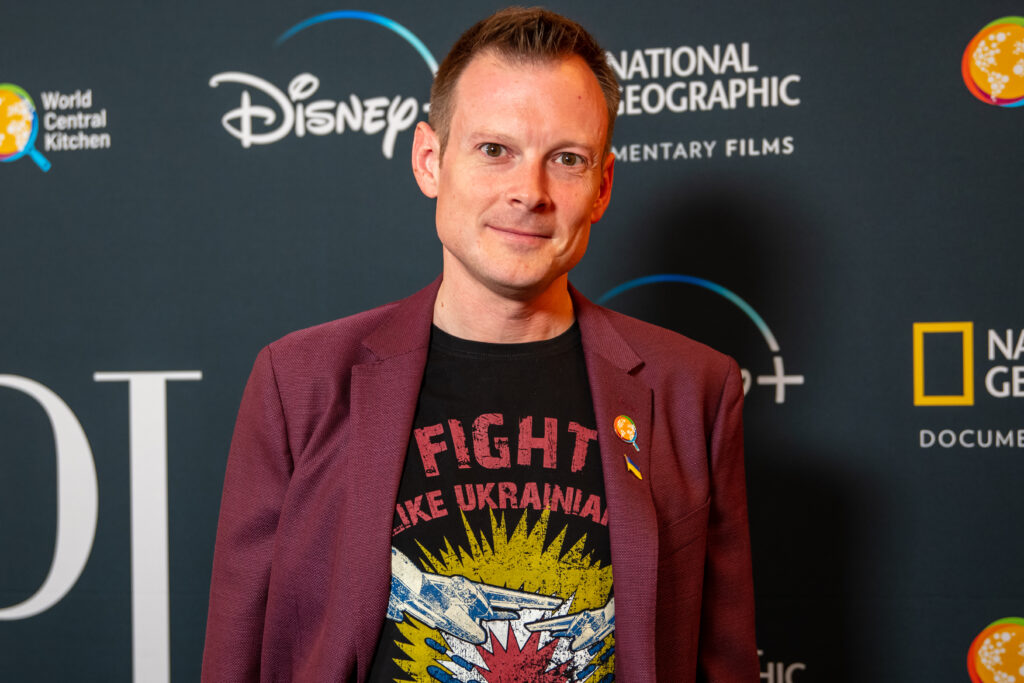 Nathan Mook
Andrés has attracted many big name supporters through the years and many turned out for the special evening to celebrate him including House Speaker Nancy Pelosi, Supreme Court Justice Sonia Sotomayor, Actress Sophia Bush, Senators Mark Warner and Joe Manchin, KIND bar founder Daniel Lubetzky, AOL co-founder Steve Case, and Billionaire head of Amazon, Jeff Bezos. In July 2021, Bezos famously donated $100 million to Andrés with the mission to go out and make a difference, and it looks like the chef has run with it.
Senator Manchin, Steve Case, Jean Case, Senator Warner
Director Ron Howard couldn't attend in person, but sent a video message to warm up the attendees and called World Central Kitchen "extraordinary" and said it sets an "inspiring example" to people and other organizations. Sara Bernstein, who is the co-President of Howard's Imagine Documentaries said that Ron was "in awe" of what he had heard about World Central Kitchen and approached them about making a film, careful to want to highlight the armies of volunteers and not just the larger-than-life chef who sits at the top of the group.
Sara Bernstein
But even as praise is heaped upon him, chef José is humble and passionate. He said that he really believes that the worst moments of society come upon us, like the pandemic, "if you start looking to your right and to your left and you start joining forces with others" that you will find the allies you need to make a big difference for many.
Jose Andres
"I just learned that all I know how to do is cook. With a kitchen or without one…" A modest summation for a man with multiple Michelin stars and James Beard Awards.  The mission is simple, as shown in the title of the film, and despite the global scale that might scare others off, Andrés is ready for the challenge. "Just cook and feeding," he said. Changing the world, one meal at a time.
The film premieres on Disney+ on May 27th.
From the chef and the producers on the red carpet: