Women in Journalism…
Photo credit: Daniel Swartz
This would have been the first great party for WHCA Week 2020.  Sad….
"Just one anecdote which may say a lot," said MSNBC's Andrea Mitchell at the 6th Annual Washington Women in Journalism Awards at Anderson House in Washington, DC co-hosted by Gloria Dittus, Chairman Story Partners and Washingtonian President and CEO Cathy Merrill Williams kicking off  The While House Correspondents' Association dinner weekend festivities. "40 years ago when I was NBC's energy correspondent covering nuclear power, Three Mile Island happened.  I was assigned to go to the Nuclear Regulatory Commission on East-West Highway which was considered a safe place for me to report. The bureau chief, a man I loved and admired to this day, kept sending, rotating men into Pennsylvania to cover the accident when we didn't know how much radiation was actually being released. And every day, every 24 hours another man, male correspondent would go in. And finally by the end of the week I marched into his office and said: 'I'm the energy correspondent. I cover nuclear power. I'm the only one who has not been assigned.' And he said: 'I didn't want to send any women of childbearing age when we didn't know what the radiation was going to be.' And I said: 'Did it ever occur to you that men's balls are as vulnerable as women's ovaries?' He sent me the next day and I basically stayed for a year."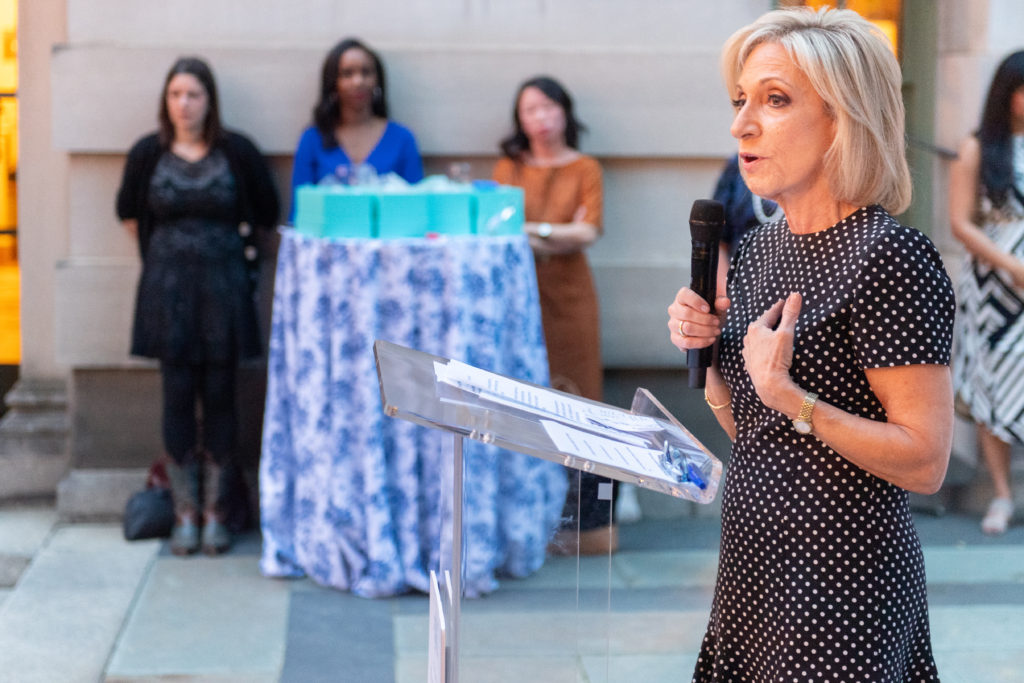 Andrea Mitchell
This year honored four amazing women journalists:
Andrea Mitchell, Chief Foreign Affairs Correspondent at NBC, Lifetime Achievement Award
Ashley Parker, White House Reporter at The Washington Post, Outstanding Journalist in Print
Abby Phillip, White House Correspondent at CNN, Outstanding Journalist in Broadcasting
Amanda Terkel, Washington Bureau Chief at The Huffington Post, Rising Star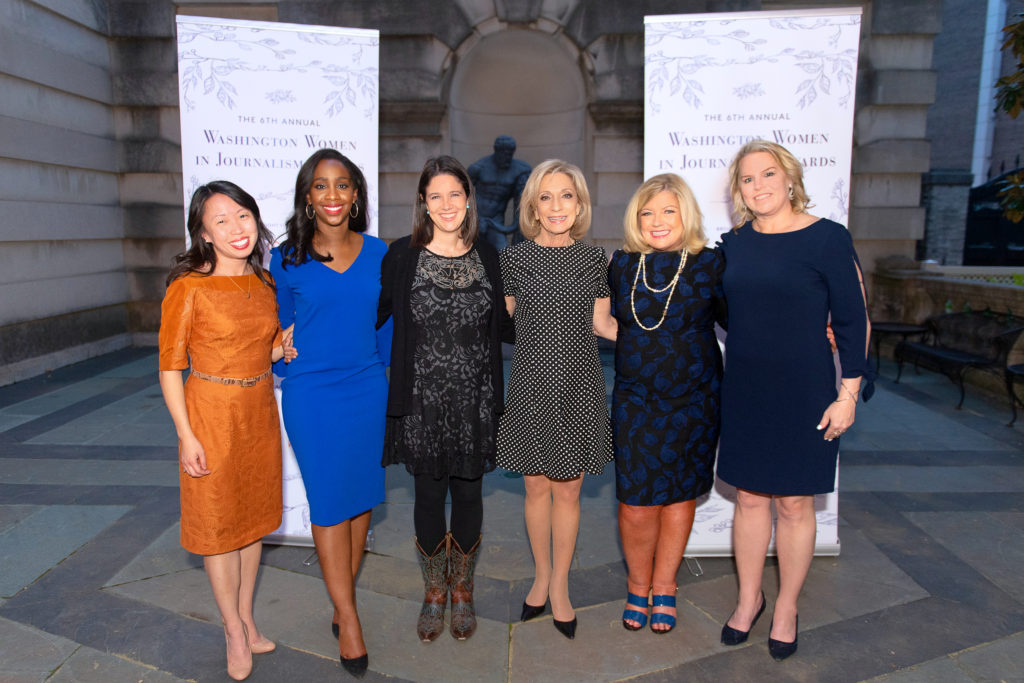 The Honorees with Gloria Dittus and Cathy Merrill
"We started this event because we felt, with all due respect to the men in the audience tonight, that women weren't were getting their fair share," said Dittus in reference to awards. "Nothing makes me happier than to join in this celebration of women in journalism with our partner Washingtonian and my dear friend Kathy Merrill Williams who introduced guests to the background of the Anderson House."
"To be a member of the club you have to be a first born son of an officer, officer only of the American Revolution which sounds kind of a little crazy until you hear the logic. It was the first time in history in our country, in the history of the world, the first time that officers that fought in a war did not go into the government. They agreed to step away, and let other people serve, but they were very worried they'd be forgotten. So George Washington formed a club. This was the club he formed, there's a George Washington Library here, a lot of his stuff here. So that was the bloodline, French officers also included. People stay in the rooms up here. So there's French citizens who are a member of this club. This was gifted by one of the club members. It was built I think in 1906, 1907. This is what $750,000 would have bought you in 1907. So we feel really honored to be here in a perfect setting for these amazing, amazing women that we are so lucky to honor."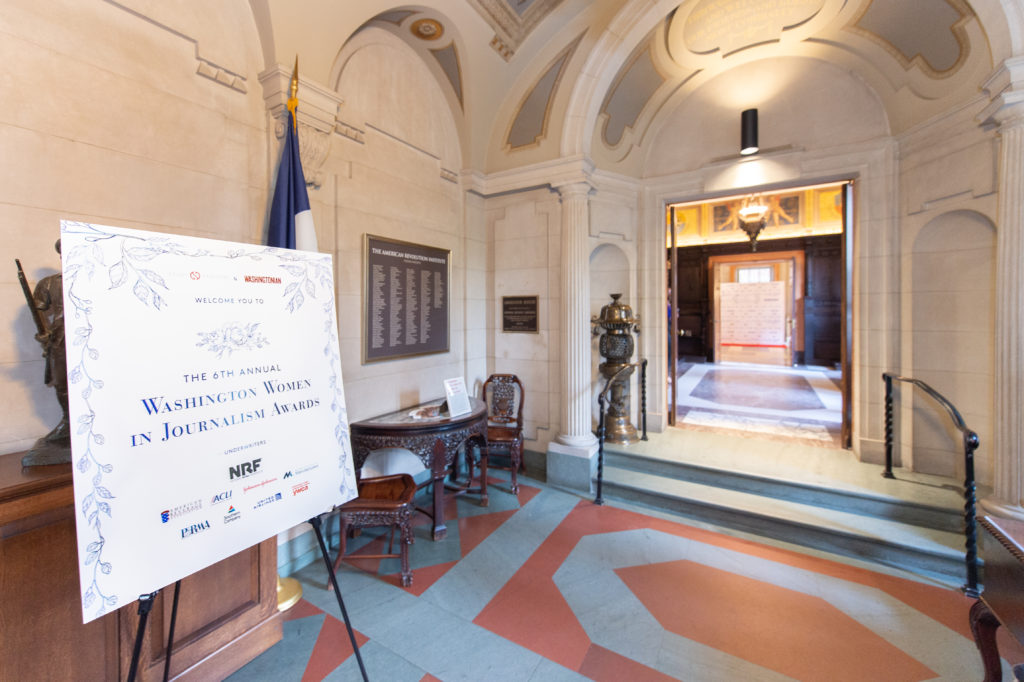 Ashley Parker was described as someone whose  alarm goes off at 6:00 a.m. most days. She immediately checks for any news from our country's first tweeter. If he hasn't tweeted, she hits the snooze button, and might go back to sleep for a few more minutes. If he has, she pulls out her laptop right there on her bed, and begins her day. No matter what, it's likely to be a busy one. Parker joined The Washington Post in 2017, after 11 years at the New York Times where she covered both the 2012 and 2016 campaigns of congress. She is a local Washingtonian who grew up in Bethesda.  Ashley shared the 2018 Pulitzer Prize for National Reporting for coverage of Russian interference in the 2016 elections.
"I think it's especially nice and important that you are focusing on women in journalism because since my first job, as a research assistant, I feel incredibly lucky that so many women journalists and editors have supported me and lifted me up from actual journalism tips, to selling and negotiations, to now, sort of wisdom to have to make it home for 6pm daycare pick-up without also sucking at my job. I'm incredibly honored to be included with these group of women. I first met Amanda when we were sort of 20 year old assistants meeting for lunch. I had the honor of working and sitting directly across from Abby, covering the White House, and it's still the greatest tragedy that CNN stole her away. And Andrea is of course is Andrea, a role model to all female journalist and I had watched in awe and sort of mild horror at the source dinner at 10:30pm she ordered a coffee because she was heading back to the bureau for a TV hit, on foreign policy news that she of course was breaking. I'm honored to be included with everyone."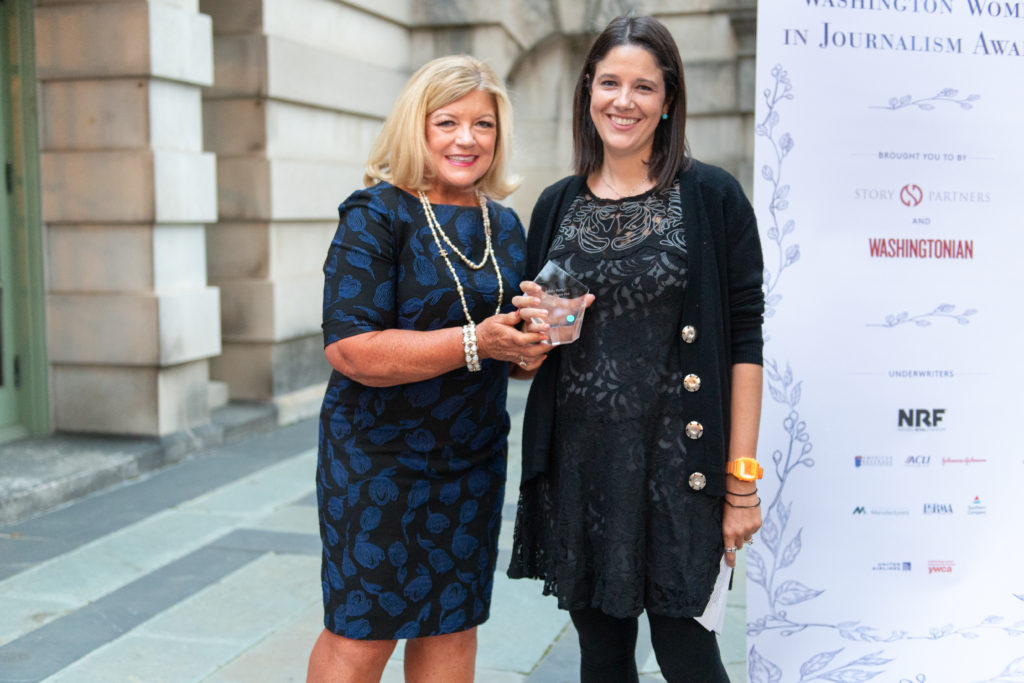 Gloria Dittus and Ashley Parker
About Abby Phillip:  Recently, Abby has spent a lot of time on the air reporting from West Palm Beach, Florida. She has stood in pouring rain – gale winds that were blowing her umbrella away while being on air and being attacked by a giant lizard. Unfortunately, she wasn't in West Palm to cover either hurricanes or lizards. She is in fact a political reporter. And she is another local, raised right here in Dewey, Maryland before making her way to Harvard. By the way, she shook off the lizard with a plum and on live TV during the storm, of course she held onto that umbrella while calmly talking about the Mueller Investigation. She's had to weather other storms during her time on the White House beat. Not so long ago, she asked the President a question about the Mueller's Report and he responded with an insult. She tried to keep going, but he interrupted her. 'I watch you a lot,' he said, followed by another insult. Phillip said, 'He says he doesn't watch CNN.'  Clearly is not the case, he watches her. And the President isn't the only one to be mean to her. CNN watchers have come to expect Phillip to deliver the news without fear, and without favor. She's earned the respect of the toughest critics of this town, other journalists. "For showing the might behind the mic, we are proud to present the 2019 outstanding woman in broadcast journalism award to Abby."
"I want to thank my husband who is here because we are back at Anderson House where got married, almost exactly a year ago. So, this is a little bit of an anniversary visit for us.  My first day walking into The Washington Post in 1961 was like diving into a sea of white men, with two invisible weights; one was race, and one was gender, but I knew if I didn't succeed, it would be just that much harder for the next black woman. I wanted to share that because I want to share with you that we are all, as women in journalism, carrying weights. Some of us are carrying more than others, and I want to share with people who were like me almost 10 years ago when I started in this business that you deserve to be where you are, that you deserve to keep working at this craft, and I think that I keep going because of people who are coming after me, just like Dorothy kept going for people like me, and I'm where I am because of people like Andrea, who blazed the path in front of me. I just wanted to offer some encouragement. I see a lot of young women in the audience today and I wanted to offer some encouragement to you, to just keep going, and even when people insult you, and we suffer incredible affronts as journalists, especially in this time. I think it does matter. It's okay to be wounded by it, but we can use that as sort of encouragement to keep going, because it means that you're doing the right thing."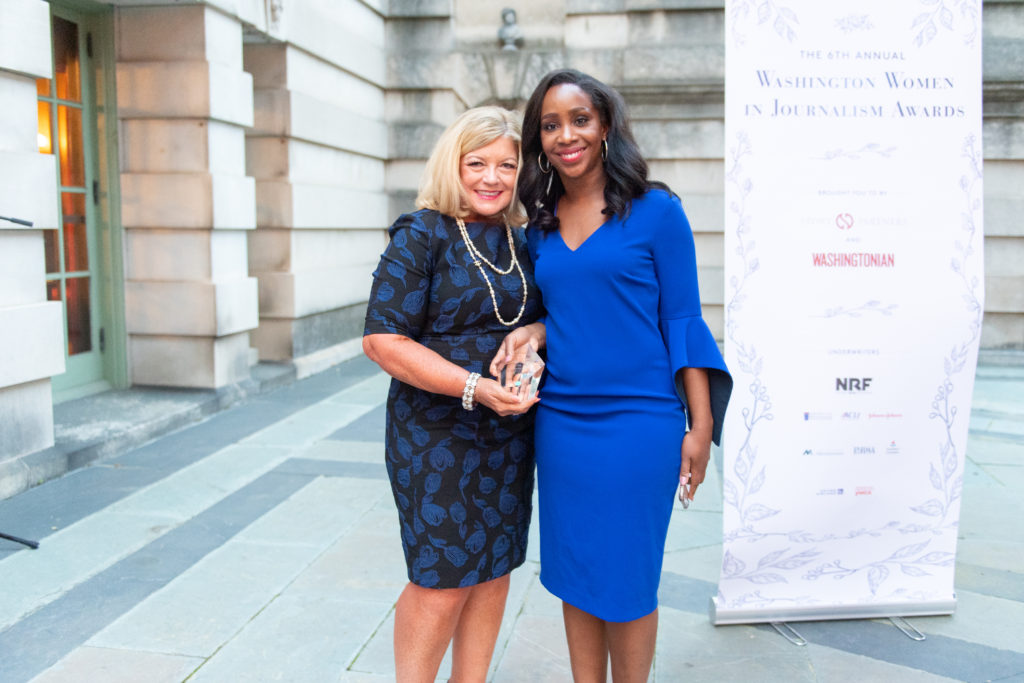 Gloria Dittus and Abby Phillip
Amanda Terkel is the Washington Bureau Chief for The Huffington Post. She's bridged the rules of commentator and editor over her career. Earlier on she worked as Deputy Research Director at the Center of American Progress, then as Managing Editor of the ThinkProgress.org website. When she came over to run Huff Post she demonstrated that she wasn't going to be anyone's 'amen horse.' In the last few weeks, we've watched her hold Attorney General William Barr's feet to the fire and remind people about some of the more questionable aspects of Joe Biden's record. "For making The Washington Post and Huff Post worth every click, we're proud to present Amanda Terkel of the 2019 woman in journalism rising star award."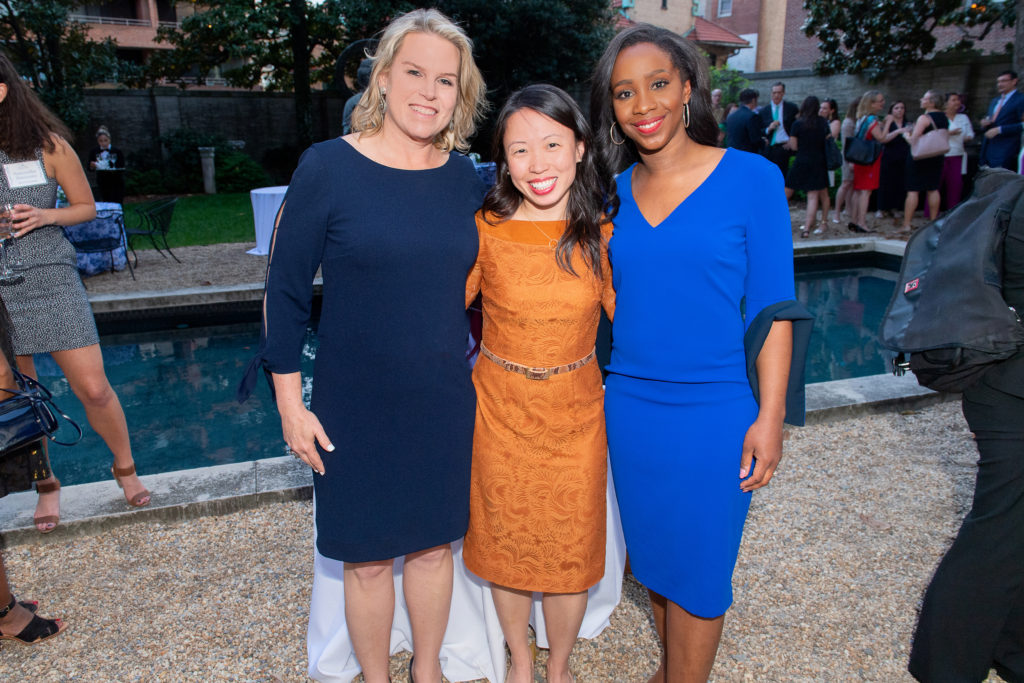 Cathy Merrill Williams, Amanda Terkel, Abby Phillip
"I think that this event is incredibly important, because whether we like it or not, we're always reminded that we're not just journalists, we're female journalists," responded Terkel. "When I started out I was one of the, I think, only people on my team who was a woman and I just thought like 'yeah that's awesome, that means I made it.' Like, that was really screwed and I feel like that perspective has shifted. Behaviors that we took as normal or laughed off or excused are no longer acceptable. I'm in digital journalism which has had better times, even as we're basing some leaked times of layoffs, pressure with social media and everything, I see the incredible talent that's here tonight and who's applying into journalism and that's very reassuring, so thank you all for coming."