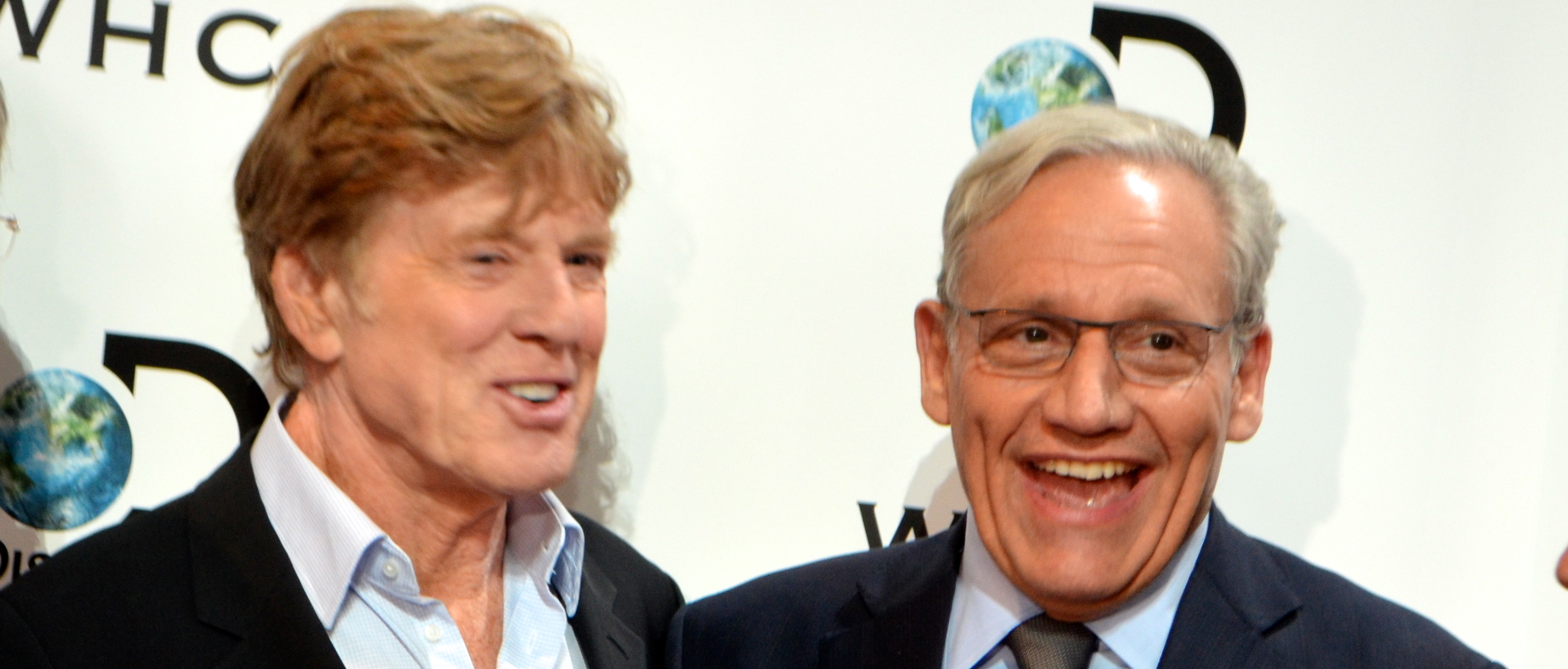 Watergate #50
Photo credit: Misc.
"50 years ago a break in took place at the Democratic National Committee headquarters in the Watergate building. The White House press secretary at the time referred to the incident as nothing more than a third rate burglary. Men in power thought they were beyond accountability. Bob (Woodward) and Carl's (Bernstein) journalism proved them wrong. Their reporting fueled a massive Senate investigation that led to 48 criminal prosecutions and Richard Nixon's resignation showing the world that in our democracy, even the most powerful person in the land, the President of the United States is not above the law. " Fred Ryan, CEO and Publisher, The Washington Post via Washington Post Live
Hollywood on the Potomac has been following the Watergate saga for years.  Here is a look back at the milestones.
Watergate Revisted…
By Janet Donovan April 20th 2013
Photo and Video Credit: Janet Donovan
"We were unmarried, we were kids and Carl really developed this method of let's go see people at night, without an appointment."  Bob Woodward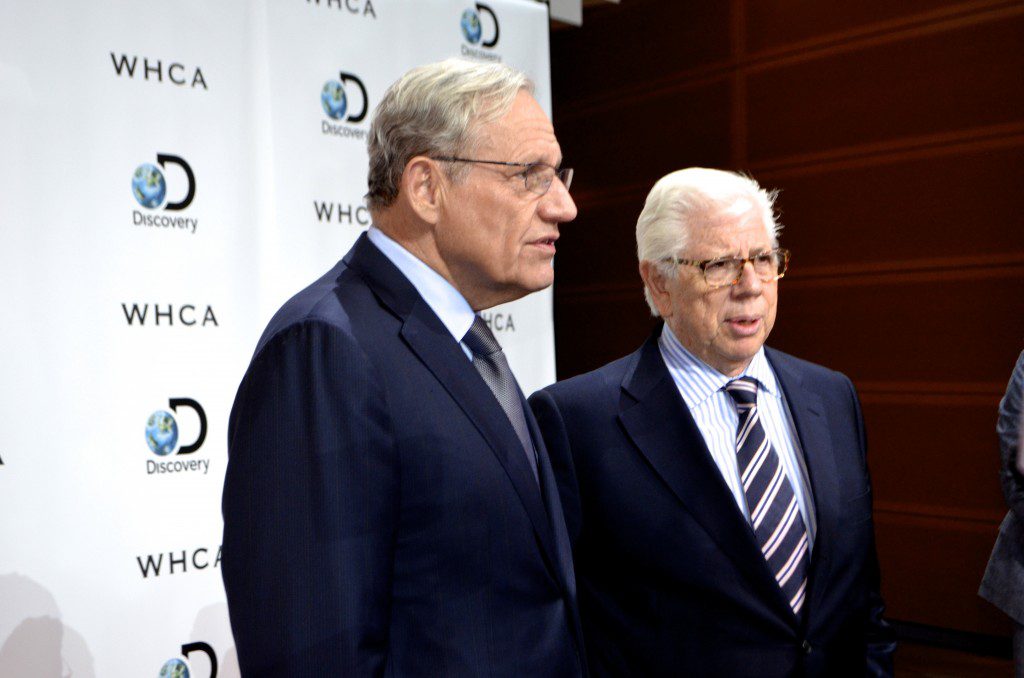 Bob Woodward and Carl Bernstein
"I think he (Ben Bradlee) came to trust us because we brought in the goods. We brought the information.  Editors like nothing more than a good story."  Carl Bernstein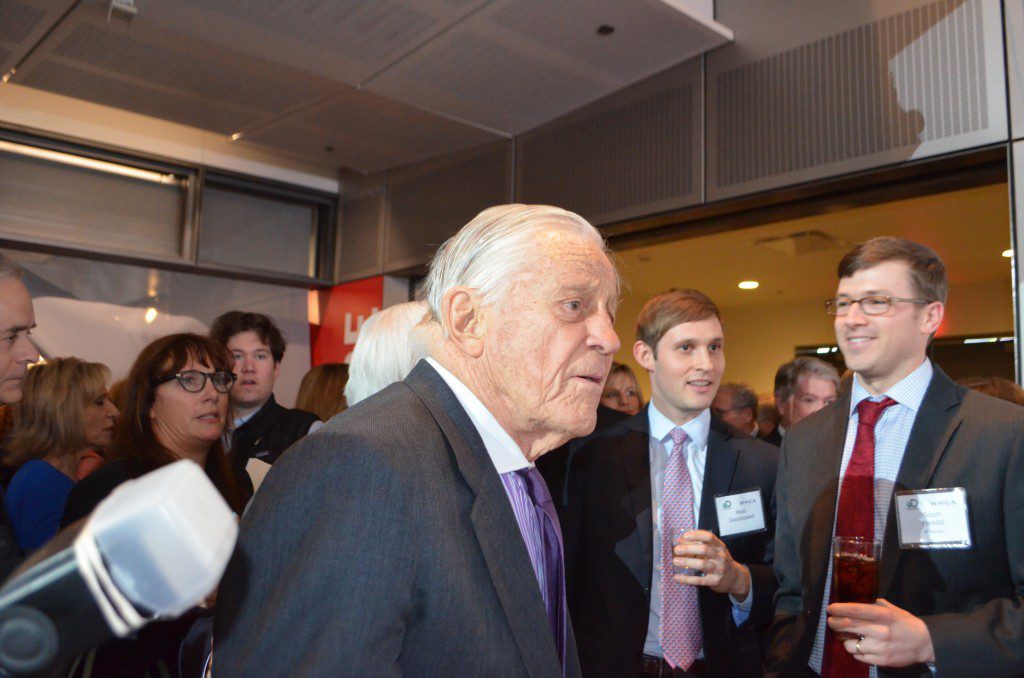 Ben Bradlee
"Discovery Channel and award-winning actor/director Robert Redford presented a landmark television event looking back at Watergate – the original game changer of American politics.
Redford, who served as producer of the iconic 1976 film All the President's Men, brought the story of Watergate to the screen with authenticity, power and precise detail while doing justice to a seminal chapter in American history.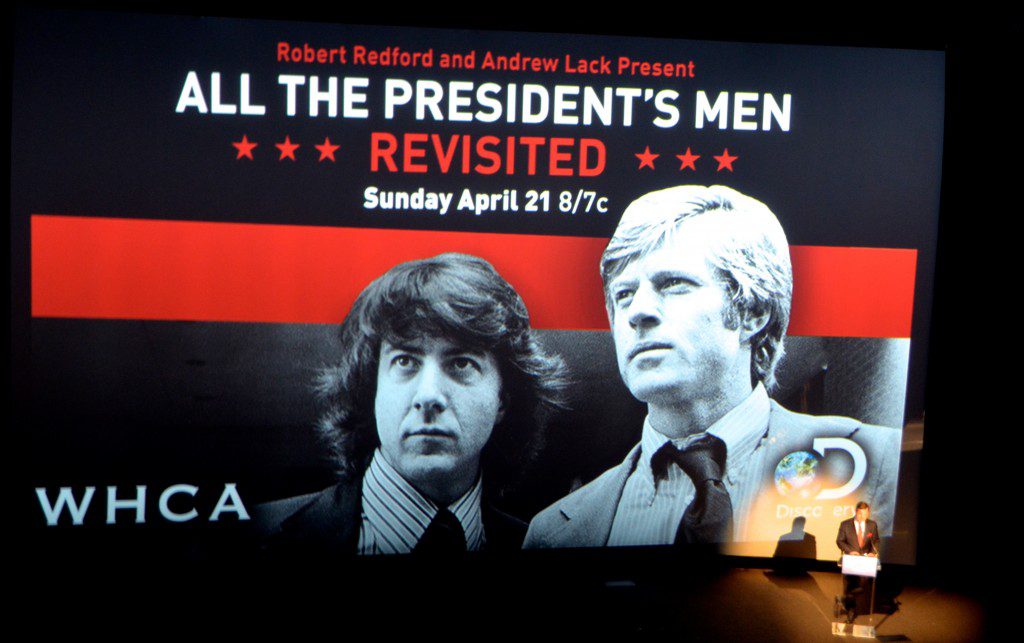 More than 40 years after a bungled burglary brought a beleaguered presidency down and the term "Watergate" into the national lexicon, Mr. Redford returns to the scandal that broke all the rules of press and politics, brought down a President and forever changed the country in ALL THE PRESIDENT'S MEN REVISITED. " Production Notes
David Zaslav, President and CEO, Discovery Communications, Eileen O'Neill, Group PresidentDiscovery and TLC Networks, Ed Henry, President, White House Correspondents' Association, Andrew Lack and Laura Michalchyshyn, Executive Producers, presented the premiere screening at the Newseum.
The reporters: Bob Woodward and Carl Bernstein
The Actor: Robert Redford
The prosecutor: Jill Wine
The Red Carpet:
The Trailer: